OCA Awards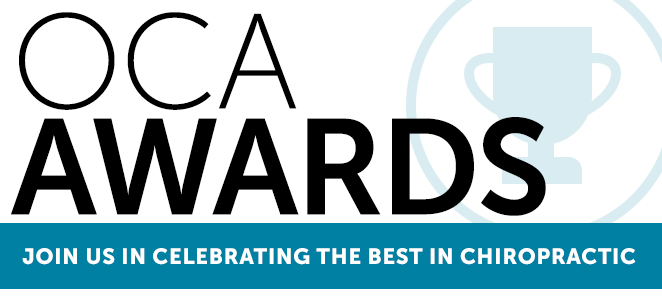 Celebrating the best in Ontario chiropractic, the OCA Awards give professional and prestigious recognition to chiropractors and their health teams who deliver exceptional health care. Join us in celebrating those health care professionals who have made an exceptional difference to chiropractic through community engagement, patient care and more. The recipients of these distinguished awards represent the pinnacle of what this profession can achieve, especially the Chiropractor of the Year.
Nominating a chiropractor for any award means you are helping to share the contributions and achievements of the profession across the province. You do not have to be a chiropractor to nominate. You can submit a nomination as a health team member, patient or an individual with interest in and knowledge of the chiropractic profession.
Award recipients will be presented and recognized at the annual OCA Awards Gala  on Saturday December 2, 2017 at the Metro Toronto Convention Centre. This elegant evening celebrates the achievements of leaders in chiropractic with a dinner and entertainment.
The OCA is focused on ensuring that the awards recipients reflect the breadth and depth of the OCA's membership.
Nominations are now closed.
---
Awards
Select an award below to learn more:
---
Learn more about joining an Awards Committee.