2018 OCA AWARD RECIPIENTS
Chiropractor of the Year: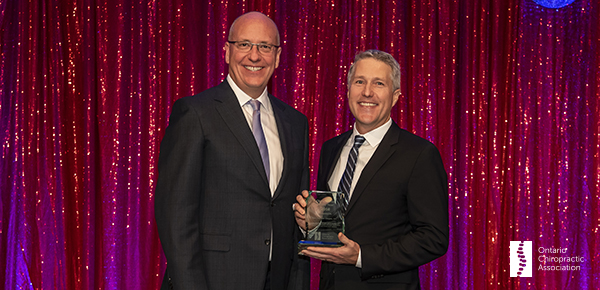 Dr. Dwight Chapin
Over the last nineteen years in practice, Dr. Dwight Chapin has made significant contributions to his community and has increased the exposure of our chiropractic profession. Through satellite clinics at large corporations such as The Globe and Mail, Bell and General Mills Canada Corporation, his practice demonstrates the  wide-reaching  benefits that chiropractors can have  on the working population. As a Health Advisor and on-site chiropractor for The Globe, he wrote an article outlining how chiropractors play a role in solving the opioid crisis. Additionally, as the head chiropractor for the Toronto Argonauts of the Canadian Football League, he was part of the 2017 Grey Cup Champions, highlighting the value of chiropractors in this domain.
Dr. Michael Brickman Heart and Hands Award:
Dr. Marc Bronson
Dr. Marc Bronson is the clinical director of  a multidisciplinary practice in Kirkland Lake, Ontario, which he founded in 2008. As a champion for our profession, he promotes the importance of spinal and MSK health in his home community, including how chiropractic care can be integrated into primary care settings.  Our recipient has an incredible passion to promote patient centred chiropractic-based care on the latest research and best practices. This is a passion he shares with fellow chiropractors on his successful Evidence Based Chiropractors Facebook group, which at  8,200 members is likely the largest chiropractic social media group in the world.
Exemplary Service Award: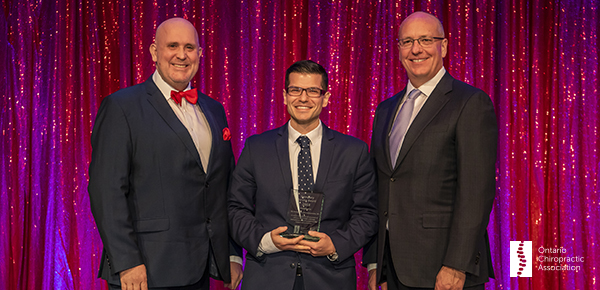 Dr. Demetry Assimakopoulos
Dr. Demetry Assimakopoulos is the first recipient of the new OCA Exemplary Service Award. He works at the University Health Network, with physiatrists, nurse practitioners and allied health care members. He teaches medical students, residents and fellows how to perform examinations and educates them on the benefits of manual conservative treatments for mitigating pain.  He is a liaison between the University Health Network and Toronto Rehabilitation Institute as they source a new site for an interdisciplinary chronic pain residency rotation. Dr. Assimakopoulos also participated in the creation of competency-based learning objectives for the  physicians participating in the University of Toronto Comprehensive Pain Management Fellowship Program.
Patient Care Award: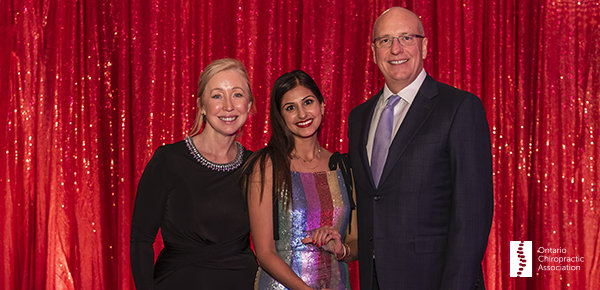 Dr. Marco De Ciantis and Dr. Aliya Visram
Dr. Marco De Ciantis is a passionate advocate for a collaborative care environment, both within his own multidisciplinary practice and with his patients' external health care team. He cultivated this environment by leading clinical case meetings in which his team works together to understand cases more fully. He also spearheaded a project to connect with his patients' general practitioners to open the lines of communication to keep patient progress on track.
Dr. Aliya Visramcreates a collaborative approach to women's health by working with Doulas, childbirth educators, midwives, obstetricians and other birth professionals. She expanded her skill set throughout her career by becoming a trained Doula, yoga teacher, and acupuncturist.
Community Relations Award: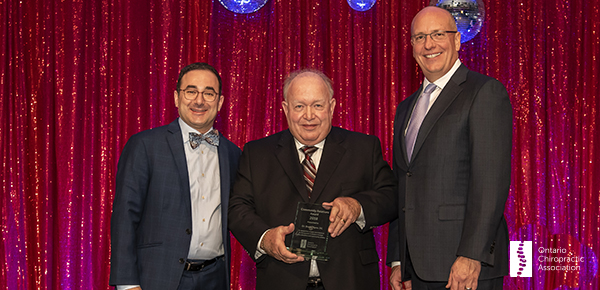 Dr. Bruce Flynn
Dr. Bruce Flynnworks tirelessly to have chiropractic recognized in his community and across the country. He realized he could engage more people on chiropractic benefits by presenting at conferences, including Health Quality Ontario and the Association of Family Health Teams. Those were met with great interest and he was awarded the Bright Lights Awardfrom the Association of Family Health Teams.
Recent Graduate Award:
Dr. Ryan Albert
Dr. Ryan Albertworks in a comprehensive medical clinic with physicians, surgeons and nurse practitioners, where he's able to regularly attend rounds and collaborate in the interprofessional management of patients. He demonstrates outstanding promise and a commitment to enhancing the chiropractic profession.
Chiropractic Health Assistant of the Year:
Melissa Cowl
Melissa Cowl has been a CHA for over 15 years. She's also a practicing Doula and an international Doula teacher. Melissahas provided Doula training throughout Europe, at various military bases and remote First Nation communities.  She attends conferences to further increase her skills and foster  interprofessional  collaboration between family doctors,  midwives and obstetrical teams.
---