AGM 2018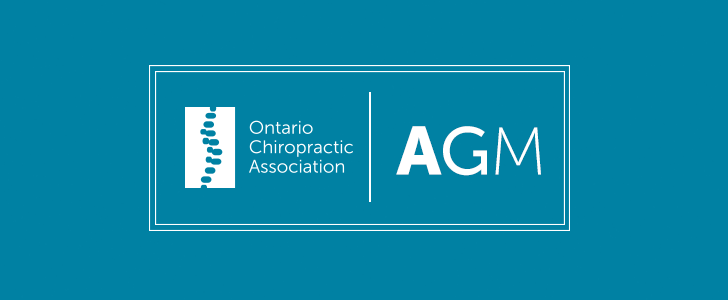 ---
The 2018 Annual General Meeting (AGM) of the membership of the Ontario Chiropractic Association will be held at the Delta Toronto, 75 Lower Simcoe St., Toronto on Saturday, December 8, 2018 at 3:00 p.m. All OCA members are encouraged to attend the AGM.  More details to follow.
---
CALL FOR NOMINATIONS
Nomination for the OCA Board of Directors
The OCA Board of Directors consists of 12 OCA members. The OCA By-Laws require that elections be held prior to each Annual General Meeting (AGM) to replace those directors whose terms are expiring or to fill vacancies of any directors whose terms cannot be completed.
This year there are five positions open for election for a three-year term.
The By-Laws provide that:
The number of directors to be elected following nomination by the members (each such position a "Member Nominee") shall be equal to the number of directors whose terms are ending on the day of the AGM, except that when an incumbent director's term ends if that director is the Vice-chair (having served one year or two years of a two year term of office), or the Chair (having served one year of a two year term of office), such person may be nominated by the board for election as a director, and the number of Member Nominees shall be reduced by one.
Dr. Ken Brough (Chair of the Board of Directors) is eligible for re-election. In accordance with the By-Laws, the board has determined that Dr. Brough will be put forward as the Board's nominee and as such the number of Member Nominees will be reduced to four positions.
Eligibility
Nomination for a position as a director on the OCA board is open to any OCA member who has been a member in good standing for at least three consecutive years. The OCA Board of Directors meets four or five times per year on Friday evenings and Saturdays. Directors are expected to serve on Board committees and become involved in policy development, governance and fiscal oversight. Results of the OCA Board Election will be announced at the OCA AGM in Toronto on December 8, 2018.
Nominations and Elections Process
This year the nomination and election process will be simplified. To be considered a candidate for the Board, a nomination form must be signed by ten OCA members in good standing. The OCA will contact potential board candidates by telephone for an information gathering session, which will support their nomination. Information compiled during the phone call will be used to create the nominee's profile for the election ballot. Additionally, a headshot of the nominee is required by email in a .jpg or .png or .gif format. Candidates are also invited to share up to three ballot supporting resources, for example, LinkedIn, YouTube, or research they have contributed to, etc.
Please refer to the attached 'OCA Board Member – Job Description' as a guide for prospective candidates. The job description identifies the requirements and responsibilities of OCA directors. Additionally, information regarding any actual or potential conflict of interest situations or circumstances that a nominee may have in serving in the position to which he or she has been nominated should be declared and included in the materials that are submitted. Please refer to the Conflict of Interest Policy and Confidentiality Policy found on the website at https://www.chiropractic.on.ca/members/about-oca/governance
Nomination Forms and Election Materials are due no later than Friday, October 26, 2018 by 4:00 pm and must be submitted by email to governance@chiropractic.on.ca.
---
Being an OCA Director
Serving the chiropractic profession is a personal honour and a significant responsibility. The profession requires committed and responsible individuals who are prepared to allow their names to stand in service to the profession. I urge you to look to your colleagues for those who would serve our profession. We need leaders to shoulder the effort and to do the work that has to be done. Please approach someone you would be proud to nominate.
An organization is as healthy as the interest shown by its members in its functioning and future planning. The many successes of the OCA, for more than eighty-five years, have been achieved through dedicated leadership supported by a strong membership. Your help is needed to continue our progress; exercise your ability to affect chiropractic's future in Ontario – get involved!
Should you have questions please contact Caroline Brereton, Chief Executive Officer or Dr. Ayla Azad, Chair of the Governance and Nominating Committee at: governance@chiropractic.on.ca.
Thank you to those willing to stand for election to these four Director positions.
Dr. Ayla Azad
Chair, Governance and Nominating Committee, Board of Directors