2019 Award Recipients
---
Chiropractor of the Year:

Dr. Shawn Thistle was recognized for his incredible work, advancing and disseminating research in chiropractic.
He received his Doctor of Chiropractic Magna Cum Laude in 2004 from CMCC and a diploma in Medical Acupuncture from McMaster University the same year.
Dr. Thistle served as Clinic Director for SHAPE Health and Wellness Centre and joined the ranks of CMCC's faculty where he guest lectures in the Orthopedics Department.
In 2006, Dr. Thistle launched RRS Education, where he writes on a variety of research topics. RSS Education helps practitioners who strive to enhance knowledge transfer from bench to bedside. Dr. Thistle is also a monthly columnist for Research Review Corner in Canadian Chiropractor Magazine.
---
Dr. Michael Brickman Heart and Hands Award:
Dr. James Law is a world-renowned chiropractor and athletic therapist, bridging the gap between our profession and the sports world at all levels – from amateur to elite. He has taught countless students, including CMCC's fourth-year students in his course on athletic injury management.
Dr. Laws has had an enduring influence on the chiropractic profession, encompassing advocacy, education, service, leadership and clinical expertise. He has volunteered at OCA, CCO, CMCC, and the York-Peel Chiropractic Society.
For more than 40 years, Dr. Laws has contributed both with his heart, in giving to so many communities, and with his hands, in healing so many patients and helping to shape our profession.
---
Patient Care Award:

Dr. Lisa Ramsackal is the founder of Innova Integrated Wellness Centre, a clinic committed to delivering a high standard of patient-centred care. She leads a diverse, multidisciplinary team that focuses on patient goals through a team-based collaborative approach.
Dedicated to providing excellence in patient-centred care, she consults and communicates with her patients' extended health network to improve overall care, health management and treatment outcomes.
Dr. Ramsackal is passionate about patient education and was featured as a weekly health and wellness speaker on a local television program. She is also the author of a health and wellness column and provides presentations on chiropractic care and pregnancy.
---
Community Relations Award: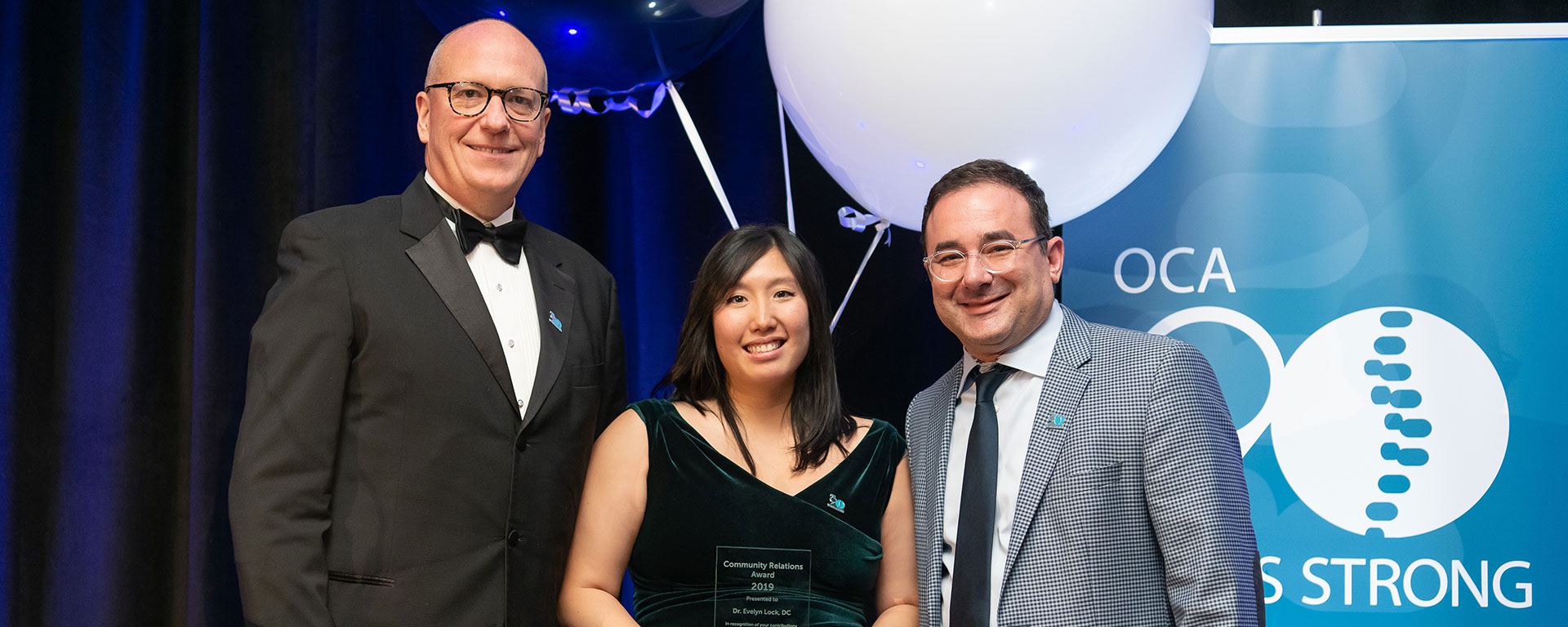 Dr. Evelyn Lock has worked tirelessly with the humanitarian charity, Bridge to Health, building its MSK program from the ground up.
Dr. Lock visited rural Ugandan villages, providing care to individuals who had never seen an MSK expert. She educated local Ugandan clinical officers in how to conduct MSK-focused histories, examinations and treatments. Because of her work, a formal MSK team has been added to all African missions, alongside multidisciplinary health care providers.
Dr. Lock mentors undergraduate students at the University of Toronto and provides care and preventative health education to several community groups. She was involved in the Key Performance Target Committees with Patients Canada, where she worked to improve patients' hospital experiences. She feels that a multidisciplinary approach helps in her current work at Mount Sinai Hospital and the University of Toronto.
---
Recent Graduate Award: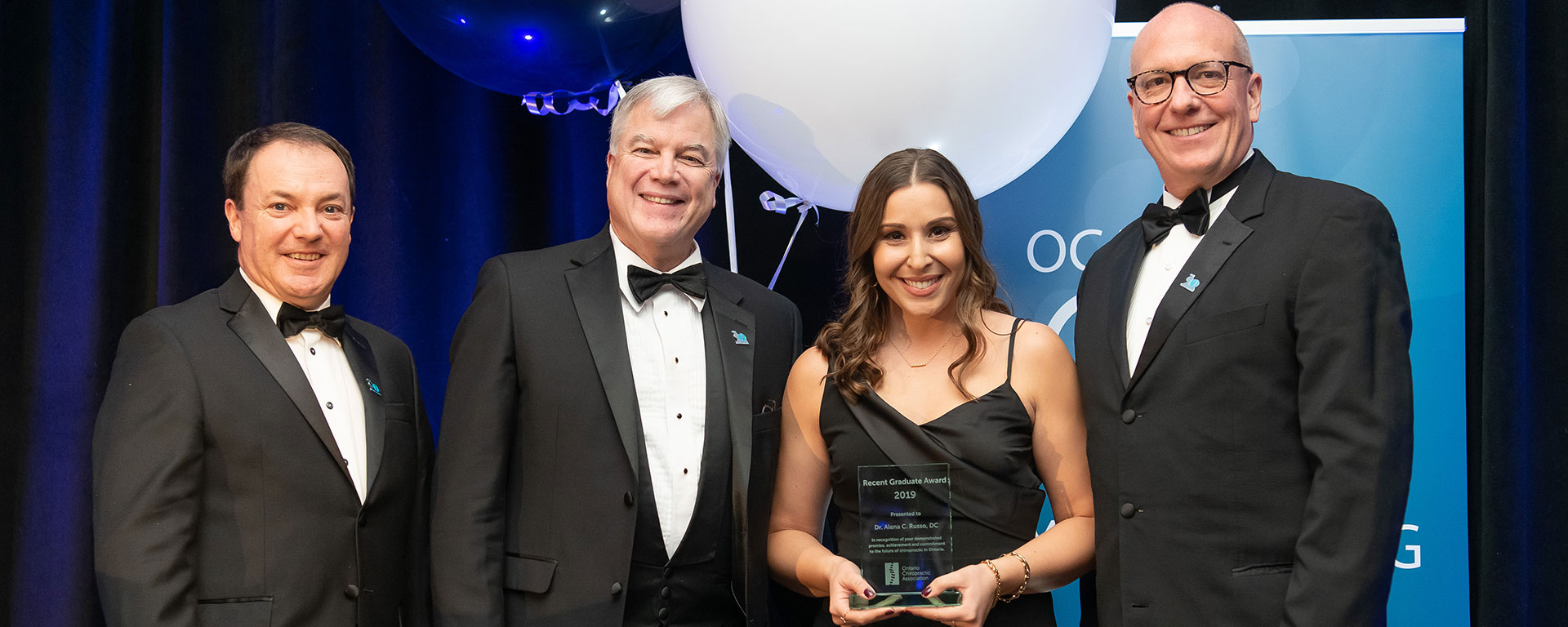 Dr. Alena Russo graduated from CMCC in 2018. Her achievements there, and her work since, have demonstrated incredible promise.
At CMCC, she facilitated the Soft Tissue Club, served on the Ontario Committee for the Student Canadian Chiropractic Association (OCSCCA) and volunteered in the Dominican Republic in alumni outreach. After graduating, Dr. Russo continued volunteering with OCSCCA and mentoring those she helped through the mentorship program.
Dr. Russo is an author on the topic of pregnancy care and the co-creator of a Prenatal Yoga and Learn program. She works at two chiropractic clinics, where she networks with health specialists and the community to promote chiropractic.
---
Chiropractic Health Assistant of the Year: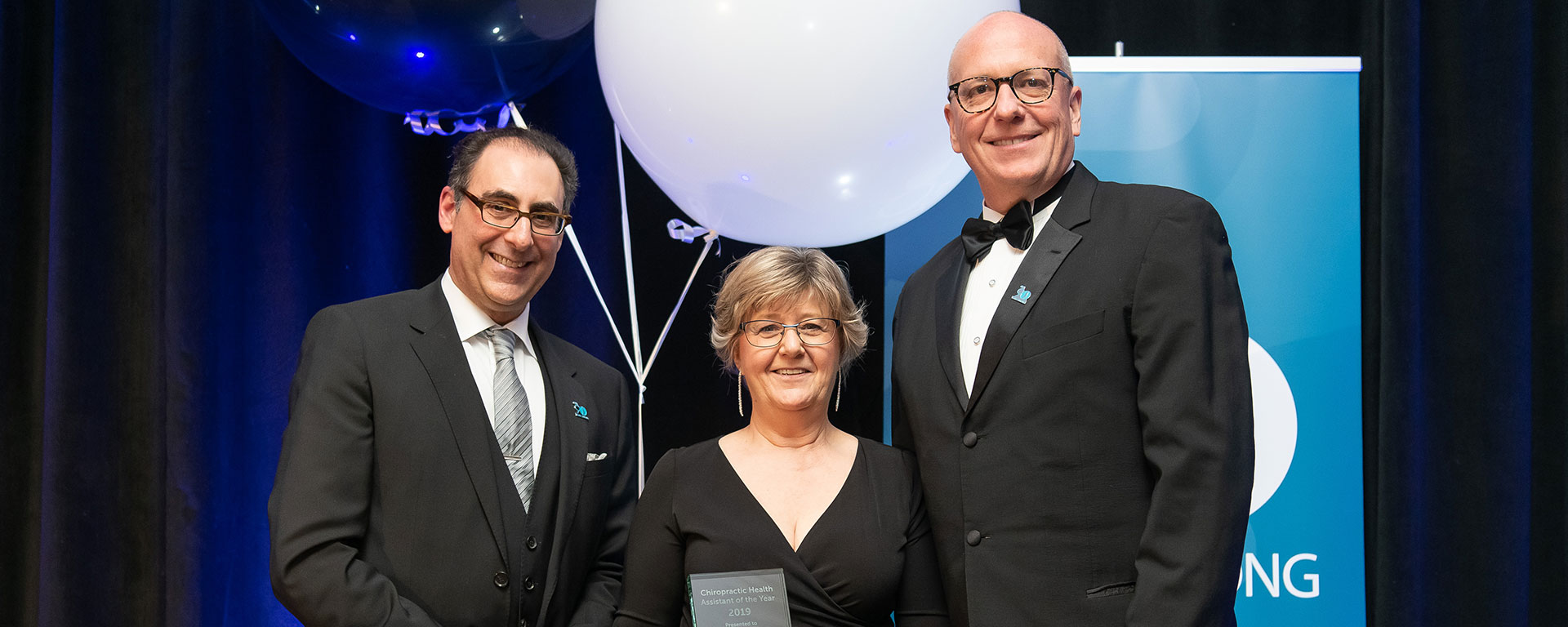 Ms. Debbie Kerr started her work at a solo practice with just pen and paper. She made her job look effortless as the practice grew to a fully computerized, complex office serving 12 practitioners. Throughout her career spanning 28 years, she trained, mentored and educated numerous office administrators allowing them to advance their careers.
Ms. Kerr treated each patient like a member of her family and as a result, they felt comfortable confiding in her.
Though Ms. Kerr is retired now, she still volunteers at Hope House and the Heart & Stroke Foundation and continues to promote chiropractic care to the public.